Who Are We
Pure Performance is more than just a retailer of running shoes, apparel and accessories. It is a place where we help our customers reach their true potential and push their boundaries!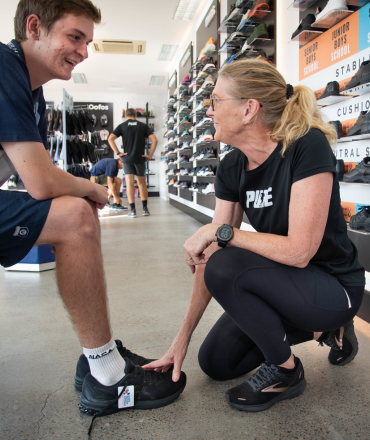 EXPERTISE
At Pure Performance, expertise is at the core of our brand values. We are not just another footwear retailer; we are a team of knowledgeable and passionate experts in performance footwear. Our staff is trained extensively in the latest advancements and technologies in the industry, ensuring that we can provide our customers with the most accurate and up-to-date information and advice. Whether you're an elite athlete or a casual runner, we take pride in offering expert guidance to help you find the perfect footwear to enhance your performance and comfort. You can trust in our teams expertise and experience the difference it can make in your running goals - visit us in-store today!
COMMUNITY
Community is an integral part of our identity. We believe in creating a sense of belonging and fostering a supportive environment among athletes, fitness enthusiasts, and the broader community. Our weekly FREE run clubs bring people together, providing a platform for individuals to connect, share their experiences and pursue their fitness goals in a friendly and inclusive setting. We actively engage with local organisations and charities, with involvement in events and initiatives that contribute to the betterment of our community. By being a part of Pure Performance, you join a community that supports and inspires each other to reach new heights.
PROGRESSION
We are dedicated to fostering progression in the athletic and personal journeys of our customers. We understand that achieving greatness requires continuous improvement and pushing boundaries. That's why we go beyond just selling performance footwear; we empower our customers with the resources and inspiration they need to progress and succeed. Through our innovative technology and cutting-edge products, we ensure that you stay at the forefront of performance advancements. Whether it's helping you set and achieve new personal records or supporting you in your pursuit of athletic excellence, we are committed to being your partner in progress.
Local community running store. With runners for staff who understand what you need and want. With technology, knowledge and a range of products that can help anyone achieve their running goals!
Verified Buyer
Super knowledgeable & friendly staff who go above and beyond in fittings and recommendations. Being a store which I thought focused mostly on running, I wasn't certain they would have the right cross-training shoes for me but I found the perfect pair. Huge variety and great prices. Will definitely be back for more shoes. I can see why this store is so popular.
Verified Buyer
I bought some new running shoes yesterday from here and I was very satisfied with the level of knowledge and professionalism shown to help guide me to which shoes would best suit my level of running including weekly mileage, terrain types and race distances. Will definately go back for my next set.
Verified Buyer